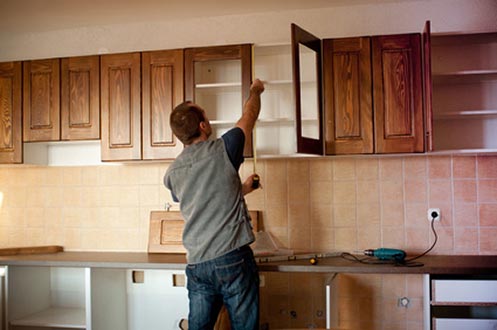 Appliance Sales/Installation
Locates great deals, delivers, installs and gets your appliance working right away.
Architects
Professionals can work up simple plans or complete blueprints, select contractors, structural engineers and oversee that construction is done according to plan.
Bath Design/Installation
Our experienced remodelers will give your current space a facelift, or completely redo with the decore of your choice.
Blacktop Repair/Sealing
Anything from paving, seal coating, patching to full replacement of concrete or black top.
Blinds/Window Treatments
Our experts offer an impressive range of styles including vertical, horizontal and specialty shaped windows.
Countertops
The highest quality granite and other natural products including a wide variety of custom products ranging from hardwoods to laminates at affordable prices.
Drywall Installation/Repair
Wall repair to major renovations. Professional and reliable at reasonable prices.
Garage Doors
Our garage door experts will service and repair all makes and models. Replacement doors and new openers installed also available. Competitive pricing!
This is our most requested service. Many of us could probably fix most things on our own but never have the time. Home Services has handymen that can help with even the most minor of items.
Garage Systems
Garage makeover with the best system to fit your needs. A few simple cabinets to a whole organized garage system.
Granite
Sales, design, installation, and repair of granite, quartz, and marble countertops.
Home Renovation
Our vendors specialize in major renovations. They are licensed, insured and bonded.
Insulation
Winterize your home and save on your heating bill. Standard and blown in insulation available.
Interior Design/Consulting
Our experts will utilize current furnishings into a new layout to reconfigure room usage or start from scratch.
Kitchen Design/Installation
Our budget conscious, remodeling experts will design and install your new kitchen.
Patios/Porches
Service for new patios and porches or repair for existing. Concrete or paver patios and sidewalks, screened-in porches and decks.
Security Systems
All systems are connected to a high tech monitoring center where professionals watch over your home 24 hours a day, 7 days a week.
Wallcoverings/Wallpaper
Removal, replacement or installation of wall coverings and borders
Window Replacements/Storms and Doors
Our window and door companies are locally owned and operated, offering a wide selection of garden windows, casement windows, patio doors, storm doors, or specialty windows. Installers are certified and trained for quality service.